The Pawlowic Lab has been hosting a WCAIR Trainee, Mr. Senyo Botchie, since July 2019. While in Dundee, Senyo has been learning the basics of Cryptosporidium culture, detection, and drug discovery.
He was recently featured on the university blog: https://blog.dundee.ac.uk/one-dundee/dundee-experience-to-help-ghanaian-scientist-tackle-parasite/
The collaborative project with Dr. Irene Ayi was also featured in a brochure put together by the University of Dundee, showcasing projects supported by the GCRF funds:
We are proud of what Senyo has accomplished while in Scotland and look forward to continuing to collaborate with him and his supervisor, Dr. Irene Ayi, and her group at the Noguchi Memorial Medical Research Institute at the University of Ghana.
Thanks to WCAIR for sponsoring Senyo's training and the University of Dundee Global Challenges Research Fund for supporting our growing collaborative research.
UPDATE as of March 1st
We sent 46 boxes of supplies and equipment to Ghana so that Senyo and his lab will have everything they need to carry out our research collaboration. Thanks to Mike and his Stores team for all the help arranging the shipment! Also thanks to Suze Farrell, the other WCAIR trainees, and FedEx for sending this hero-sized shipment!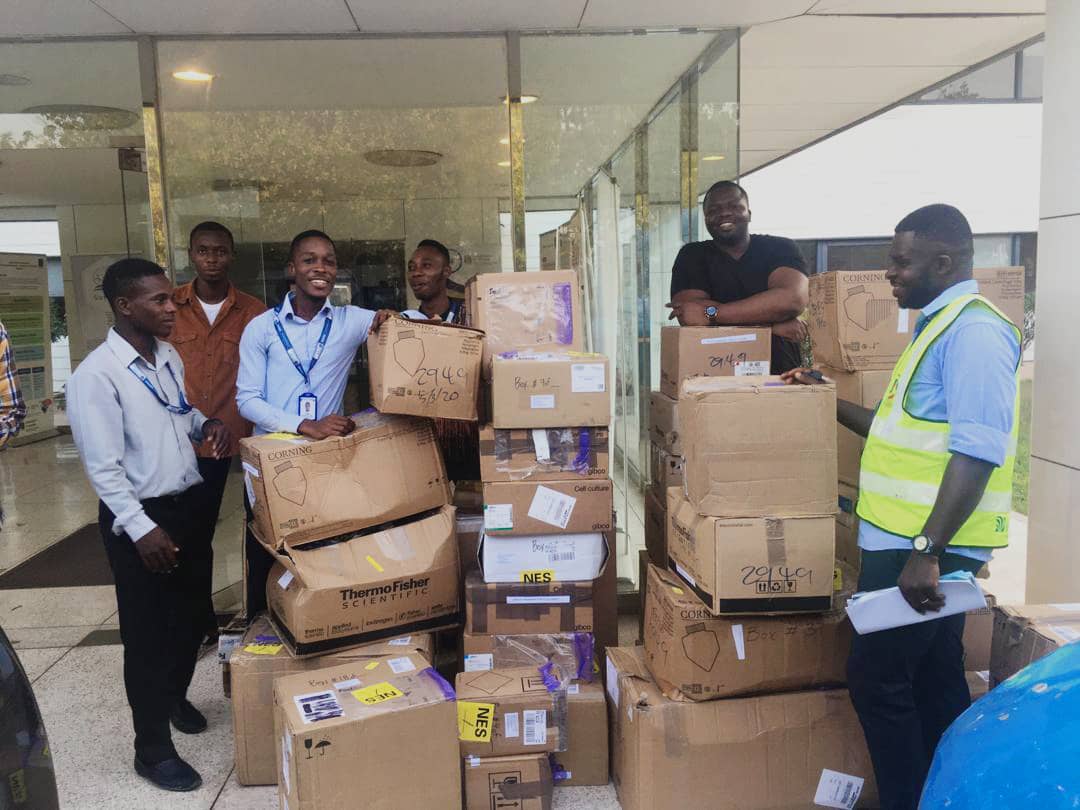 Packages arrived in Accra! Look at those smiling faces!
UPDATE as of August
Covid delayed Senyo's access to the lab and to the qPCR machines (that were busy running covid tests)… but eventually he was able to run qPCR assays for detection of Cryptosporidium in clinical samples. Below is his exemplary standard curve!
In late June, Dr. Ayi, Senyo, and the lab took a trip to the field to collect fecal samples from school-aged children with assistance from community workers. This included a boat ride!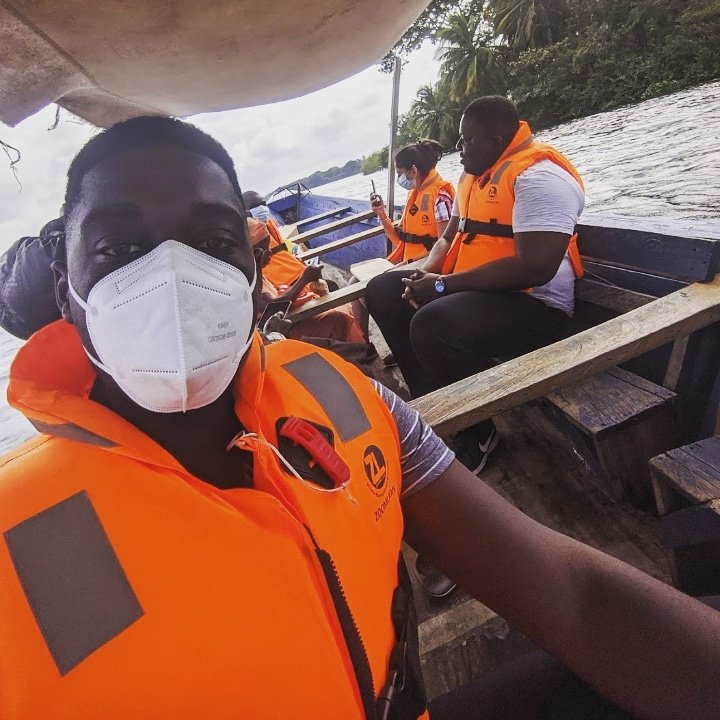 Senyo's group took the fecal samples back to the lab, extracted DNA, and analysed each sample for the presence of Cryptosporidium using qPCR. This method allows us to detect which species of Cryptosporidium is responsible for the infection (C. parvum or C. hominis) and also quantifies how much Cryptosporidium is present in the sample.
UPDATE as of October
Senyo found that approximately a third of the samples collected from the field were positive for Cryptosporidium! He then took the samples with the highest number of parasites, and purified parasites from the fecal material to get pure parasites to work with.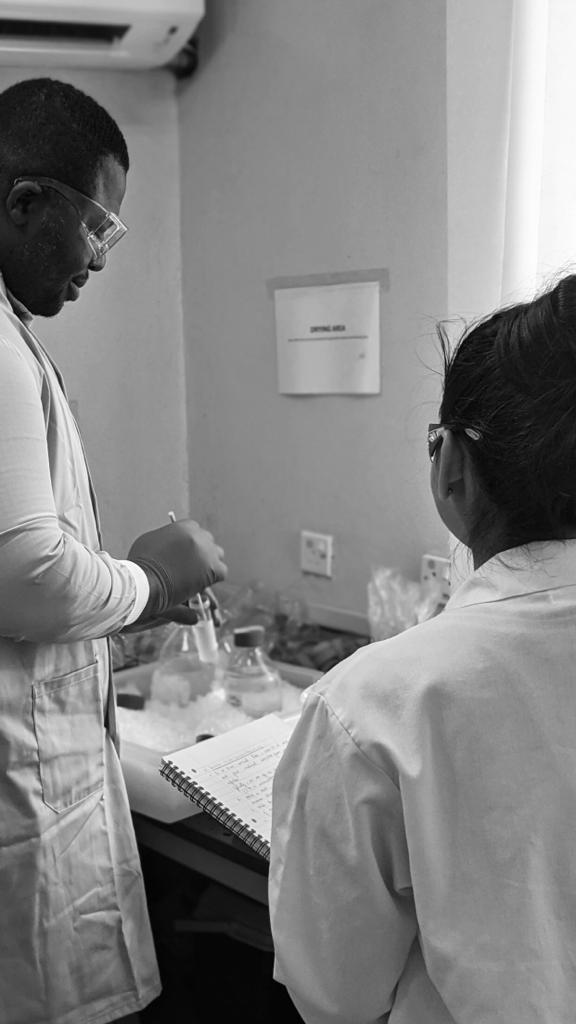 He had a look down the microscope and saw this:
UPDATE as of December, 2020
Senyo, Dr. Irene Ayi, and another WCAIR trainee publish a short communication on their efforts to develop natural product drug discovery for cryptosporidiosis in Africa. Click below to view the publication:
https://www.journaljsrr.com/index.php/JSRR/article/view/30311/56885
Thanks
Thanks to Dr. Irene Ayi for starting Cryptosporidium research in Ghana and for all her support in this collaboration.
Thanks to contract and research services offices at both University of Dundee, University of Ghana, and Noguchi.
Thanks to our admin and lab manager teams for processing invoices, tech support for submitting all the orders.
Thanks to Stores for helping us ship items to Ghana.
Thanks to the WCAIR training program for supporting Senyo and the project (Suze, Lauren, Catharine, Ola, Sandra, all the trainees).
Thanks to the rest of the lab for supporting this collaborative project! For squeezing into a tiny office and for sharing your enthusiasm for Cryptosporidium.
And a big thanks to Alistair Strickland and the University of Dundee GCRF team for funding the project and all the support along the way.